Robotics
xArm 1S: Hiwonder Intelligent Bus Servo Robotic Arm for Programming
STM32 chip for the main controller
Easy Visual Operation Interface
Support wireless handle control, smart phone APP and mouse control
Provide graphical PC software and detailed tutorials
Available:
Only 9962 items in stock
In stock
In stock
Out of stock
Back in stock
Seems cool but QR code link is broken
Was about to get assembling and the pieces and quality all look good but the QR code linking to the instruction manual is broken so it's going to be a challenge to assemble 😅
Missing Pieces
This product is actually quite interesting and fun to build, well what I could build. Currently it is incomplete because I do not have enough screws to complete the robotic arm. I looked through the box hoping I missed a little bag somewhere, but I have a feeling there was a slight miscalculation in the count when packaging. But for the most part it was fun to build, and I hope I can find extra screws to complete this project.
Hi Kristin! Pls share the picture of all screws you have to our emial and we will offer help ASAP: support@hiwonder.com
Let's be fair, it could be better.
Plus points, I got it together and it works. The two major work arounds are the crappy screwdriver that differs from the really nice one in the videos and the diction of the Asian gal that is quite hard to understand. Especially the part that tells you she assembled it wrong but then just keeps moving. Even close caption YouTube translations struggle. A young person would get lost.
I'm a retired mechanical engineer and the support material after a couple years needs a thorough update. It is a real achievement to get it together.
The other missing info is it took a few minutes to boot up the first time. It gets mentioned in ancillary material later but I sat there worried about some major SNAFU until it gratuitously beeped.
A very well made robot arm kit programmed in the versatile ESP32 processor using so many ways such as remote, mouse, PC app, phone app, manually, etc! Is impressive. See my part 1 video where I do the unboxing and review. I recommend this arm for someone doing animatronics. You can manually move the arm hundreds of positions and it will repeat them. Controlling it with a PS2 style remote or the phone app is super easy. Got two arms and build an animatronic humanoid! Is fun to see it working repeating what you want. There are ports on the board so there has to be a way for you to use MicroPython to program it or Arduino, but this part is not documented. The MaxArm does have this programming open source capabilities. The harware quality if amazingly good, Serial servo motors, anodized aluminum parts and so much more. The software works very well and easy, intuitive. My videos are not edited. I figured everything out on the first try!
I love all of the HiWonder products. Having created kits myself I can tell you they are a very creative company with fantastic quality products and awesome customer service. I want all of the their kits!!! :-) So much to learn, so little time! -
My Part 2 video where I review all ways to program it: https://www.youtube.com/watch?v=h7Ee9XWMax8
Part 1 https://youtu.be/xEjIKLILWnc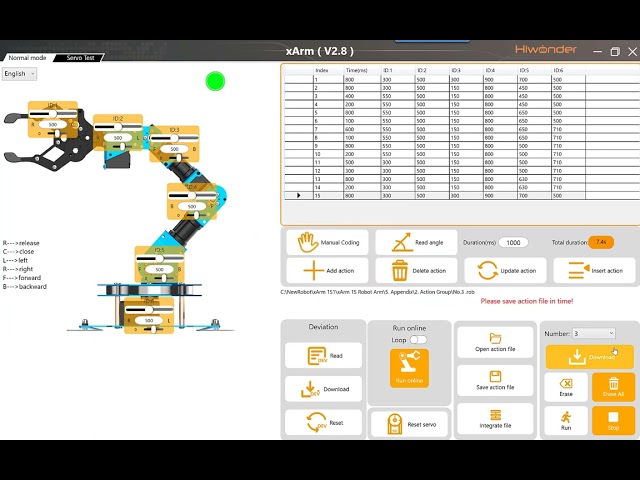 xArm 1S, an excellent product.
This is my first robotic arm I have bought, and my experience with it has been great.
I definitely would buy another one.
I found the 3 you tube video tutorials of how to put the arm together were excellent, well shown and talked through in easy steps, very detailed and easy to understand.
Connecting the arm to my PC through the supplied USB cable was easy, and after downloading the software, I was up and running, moving the arm within seconds.
Remember to first connect a power supply first, as well as the USB cable.
I used my 7.4VDC 1050mAh LiPo battery.
I did have a couple of queries, which were solved very quickly, thanks to excellent after sales service.
Well done Hiwonder!
I purchased the robotic arm. I downloaded the computer app for it but noticed it is for PCs - Windows only. I own an Apple MacBook and need that version. Where do I obtain the Mac of the computer control software?

Please download Mac version at this site: https://apps.apple.com/cn/app/xarm-robot/id1605880060?mt=12