Hiwonder
Hiwonder TurboPi Raspberry Pi Omnidirectional Mecanum Wheels Robot Car Kit with Camera, Open Source, Python for Beginners
【RPi AI Vision Robot】Support Python programming. Come with a Mecanum-wheel chassis, pan-tilt servos, HD camera and 4-ch line follower.
【Recognition and Tracking】Utilize an HD camera with the OpenCV library for FPV perspective and image processing.
【Line Following, Auto-driving】Use a 4-channel line follower or camera for path tracking and auto-driving.
【360° Omnidirectional Movement】Advanced omnidirectional Mecanum wheels enable flexible 360° motion.
【App Remote Control】 TurboPi offers ultimate control over its motion, gripping, and transportation with a dedicated app.
Available:
Only 948 items in stock
In stock
In stock
Out of stock
Back in stock
This is a very high quality Raspberry Pi and computer vision robotic PID vehicle kit
This is a very high quality robotic vehicle kit. The price is very good for what you get. I did add my own Raspberry Pi 4B and installed the image and configured it. It was not dfficult and they provide the image and code if you email them. See photo of how to change to the environment to English. I've assembled a lot of kits before so I am familiar with assmbling lots of devices. This one is not easy, but is not hard either. They provide everything you need from all the hardware and extras to the tool and superb instructions and samples. Lots of great examples. You have to become familiar with the directory structure They give you everything you need, just browse everything first. This is what makes this product and company valuable - the documentation, hardware and software quality plus the excellent customer service. Is fantastic! This kit focuses on the use of the camera for navigation and recognition using Python. Also, focus on omniwheels/mechanum wheels control and navigation and even PDI proportional derivative integral is discussed. What a great learning tool! I love all of their products and I've purchased many. Some sensors and controllers are interchangeable.
Can't wait to do all of the experiments they provide.
Did a review Part 1 (part 2 will show you how to image the SD card and install the OS on the Rpi) https://youtu.be/pjwIA3czWLk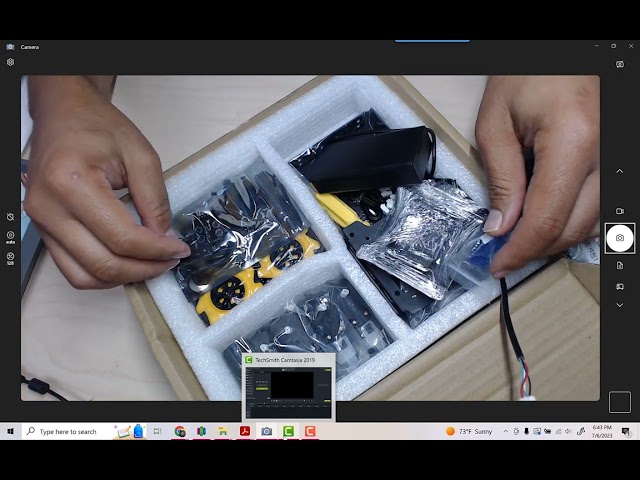 A great product and an amazing company
This is great product overall. It integrated key components such as robotic, software, AI which reflect the current technology trend of the world. We had our own Pi so we purchased the package without the Pi. Because our package doesn't have the mem card with the software preloaded, we are still trying to figure out how to load the required software to our card. But my son still loved it! Also the package we received had 3 R wheels and 1 L wheel. When I contacted support, Shelly was able to quickly solve the issue for us, which is very impressive. A great product and an amazing company that we can rely on indeed. Thank you! Keep up the good work!
QUESTIONS & ANSWERS
Have a Question?
Be the first to ask a question about this.
Ask a Question