The Tiniest Desktop Robot Arm with Wheels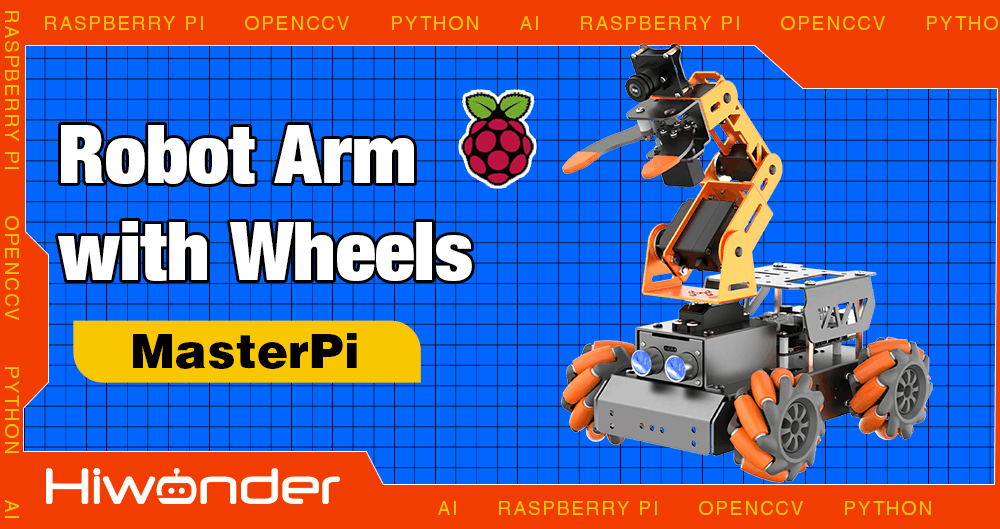 MasterPi is developed to satisfy these requirements. This is a user-friendly robot for beginner and maker no matter in learning or secondary development regards. Defined as a desktop robot, MasterPi does not need to exclusively spare a room for starting and it is capable of performing various AI vision tasks on your desktop anytime with ease. Upon exquisite appearance and superior performance, this new-style robot car has already been cast as a awesome warrior in Raspberry Pi family.

On top of that, you might be curious about what is MasterPi's shinning points?
Why Do We Chase for MasterPi's Tiny Size?
Compared with the size of most of robotic cars on market, MasterPi's size is perfectly fit for a small flat surface. You just need to place it on your desktop, and then it can carry out the given tasks. Integrating Raspberry Pi controller, ultrasonic sensor, robotic arm and HD wide-angle camera into this compact body, MasterPi is able to handle many functions and games. It must be your best robotics and programming learning partner or an excellent development object.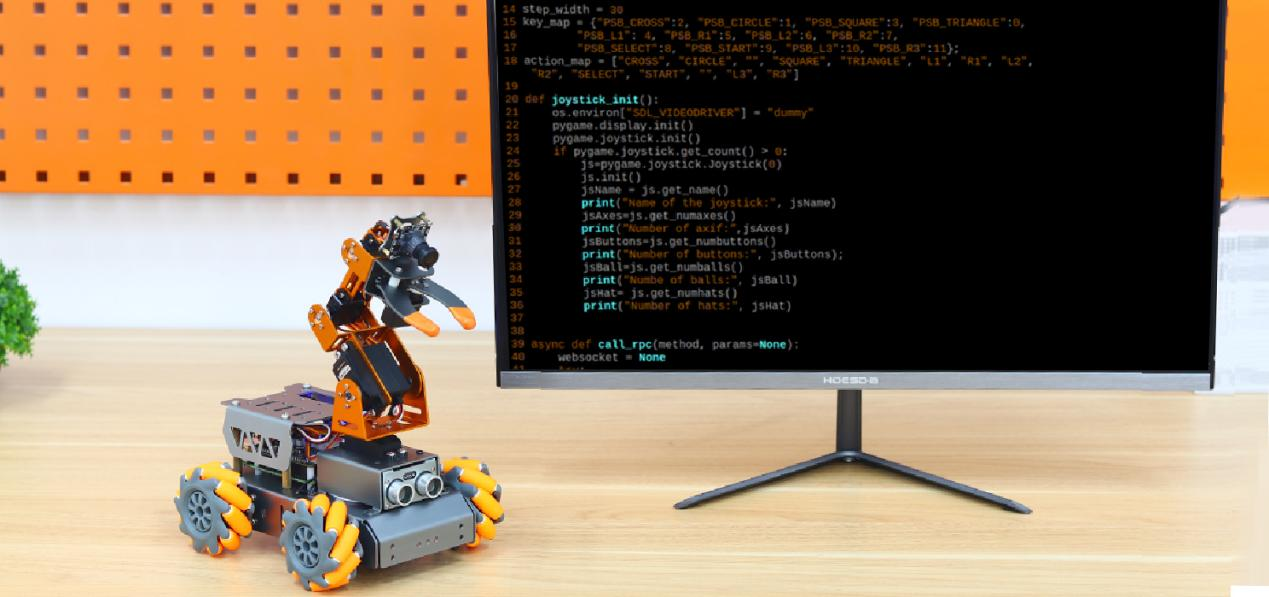 Distinguished "Figure Skater" on Your Desktop
To add more possibilities, chassis car combing with 360° omnidirectional movement mecanum wheels is a special point for robot's movement. Meanwhile, the mecanum wheels can reduce the friction with the contact surface so that MasterPi can freely move on a flat surface in all-round direction. For MasterPi, these motions to move forward, horizontally, diagonally and rotate without directional restrictions are just a piece of cake. Therefore, even if in a narrow space, you don't need to worry about whether its movement is restricted to affect its performance. Attributing to this advantage, MasterPi can cope with different and complicated routes readily.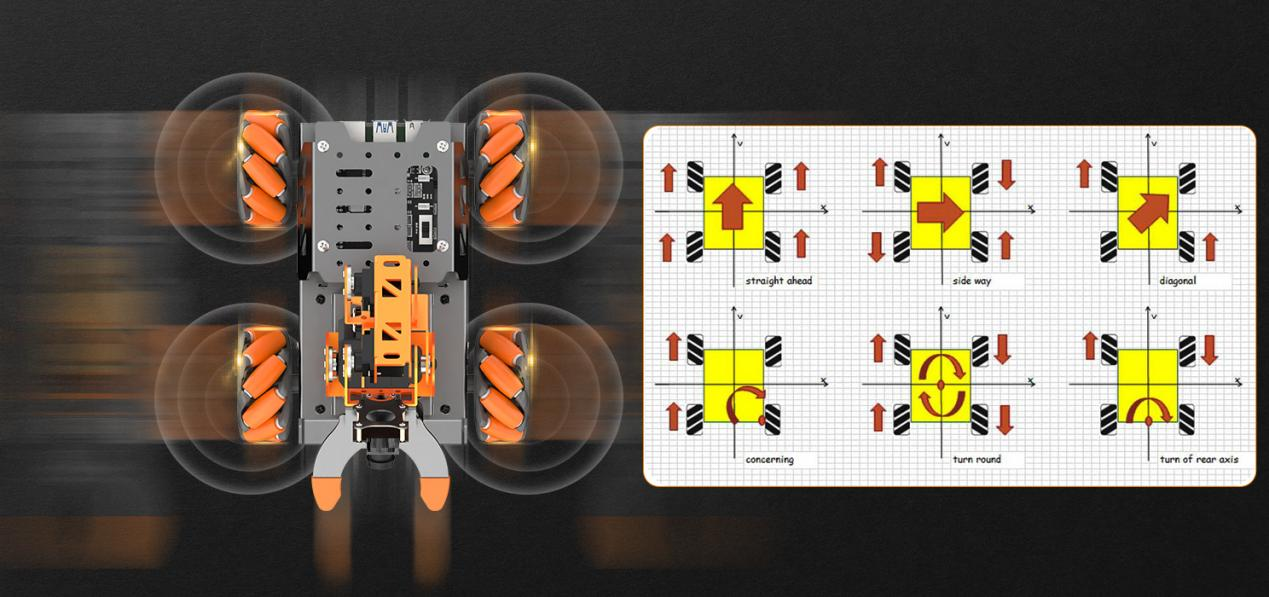 Multifunctional Assistant Robotic Arm with HD Wide-angle Camera
An HD camera ending in 5DOF robotic arm enables MasterPi possess first person view. The collaboration of robotic arm and HD camera on the mecanum chassis car realize all your imagination to track and pick the target precisely. Under the help of mecanum chassis car, MasterPi's vision range can reach 360° without blind spot and the robotic arm can stretch to pick the object surrounding the car easily. Nothing can escape its smart eye. I bet you definitely can't take your eyes off MasterPi when it carries out AI vision tasks. The rubber sleeves are wore on gripper to prevent the falling of object. Via app, you can arbitrarily control it to find the small objects and grip them for you.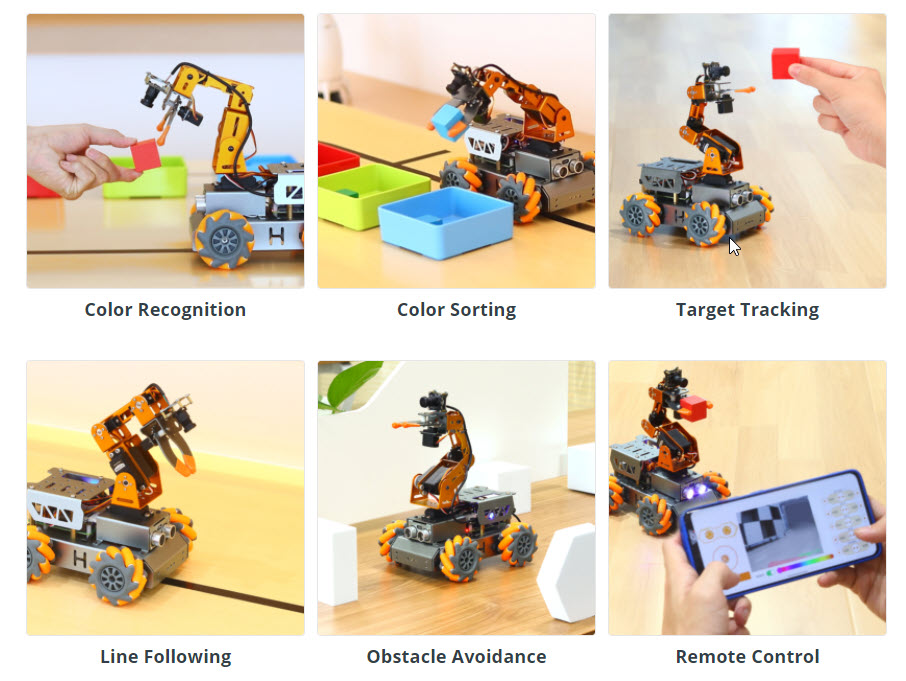 Hard Material Used in MasterPi's Body
The whole look of MasterPi is attractive and texture like a collection when you get it. MasterPi's body made of hard aluminium alloy is firm enough against shattering and breaking. Its "heart", the core controller, is fully protected so that it can bear more workload. The combination of robotic arm composed of orange metal servo brackets and aluminum alloy chassis car, MasterPi stands out with the look and skills.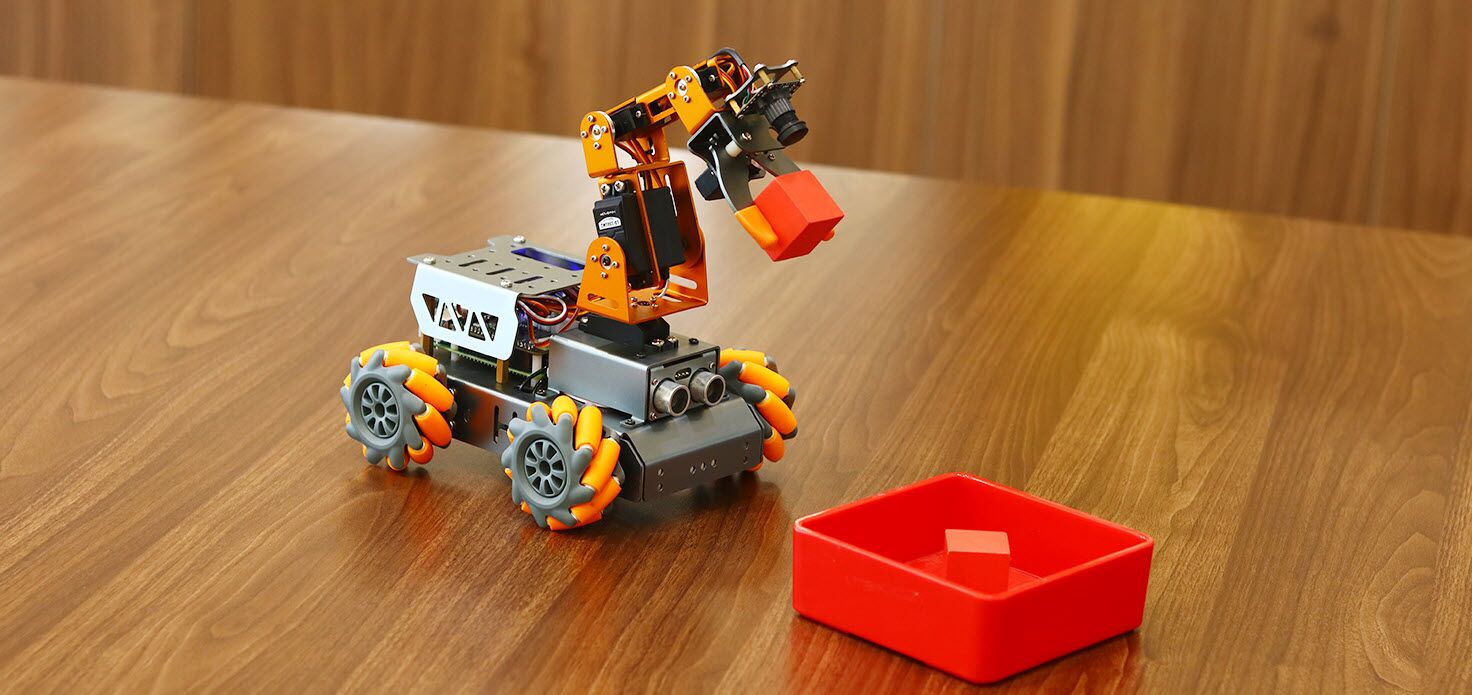 Expansion Holes for Secondary Development
The chassis car is designed with several expansion holes distributed on the front and back parts of the compact body to house sensors or other secondary development kits. This way is directly work out your confusion how to create more value on the basis of MasterPi. This whole body can be jam-packed with brainstorm ideas to bring your imagination into life!